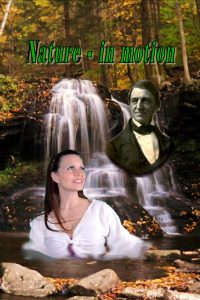 Teresa S. Landry immerses you in Emerson's essay, "Nature," presented with music, images, ethereal motion, and positive energy.
Nature in Motion
Approximately: 40 Min.
Teresa S. Landry brings Emerson's words to life with a stunning combination of movement and nature. Emerson's greatest essay ushered in the Transcendentalist movement and a new way of looking at the world and humanity's place in it. This rendition is edited and abridged for a modern audience. This ethereal interpretation of Emerson is narrated with a soothing and meditative style that will bring peace and positive energy to the viewer.
In "Nature," Emerson fleshed out his personal philosophy and relationship with God and the universe.  Transcendentalist and Universalist thought still reflect the influence of Emerson's words.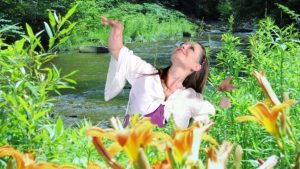 The individual soul is an integral part of the universe and the creative spirit; while each soul follows its own meandering path toward the Infinite, it is intimately linked with all other souls and all other creation. Each soul is, in effect, a creator "in miniature," a lesser reflection of the Great Creator.